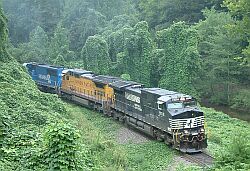 Welcome to the RRPictureArchives.NET contributor site of Charles Woodland.

Greetings and welcome to my collection of Railway photographs.

These are a small selction of the images I have taken, prior to 1995 the images will be scanned from slides using a Coolscan V and using a Nikon FM2 and F5. More will be added in due course, but its a trade off between going out to take picture, work and scanning pictures to include on my site!

Since 2005 I have been using a Nikon D70 digital SLR and the most recent pictures were taken using this.

I have an ecletic collection of pictures taken in the UK, Europe and North America. I have been seriously taking pictures since 1985, but really got into to travelling around the UK to take shots after University and I could afford the travel and the film!

A number of my pictures have appeared in UK railway magazine, many in The Railway Magazine, which has been published for over 100 years! Others in Rail, Modern Railways, Todays Railways UK.

Other photos that I have taken can be found at www.charlesgwoodland.fotopic.net

Hope you enjoy the pics and if you want info about the UK railscene please get in touch

Charles Woodland



You may browse my collection of pictures via the menu located on the left hand side of the page. I hope you enjoy the collection and thanks for stopping by!
Note: This site is best viewed in Internet Explorer 6.0 or above.
Select one of the links from the menu on the left to begin browsing the collection.